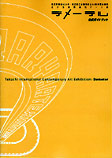 The Demeter Official Guidebook was competed right before the opening of the exhibition. Written by Ryuta Imafuku, Makoto Murata, Keiji Nakamura, Takashi Serizawa, and the artists themselves, the guidebook includes the descriptions of the works, event information, the map of the exhibition site, and the photographs of the process of works right before the opening. It also has a sheet to attach Yoko Ono's SkyTV stickers.* It makes Demeter even more enjoyable for all contemporary art lovers. Get the guidebook and go to Demeter!
*Each of eighty-one SkyTVs has a case that contains the sky stickers. When you collect all the stickers to place on the sheet in the guidebook, you will see the Tokachi sky and a message from Ms. Ono.
A5 size 184 pages (color pages and black and white pages) \1800 plus tax. In Tokyo you can buy the guidebooks at Nadiff in Omotesando.
You can find the Demeter Official Guidebook at:
Nadiff, http://www.nadiff.com, Sendai Mediatheque, Art Tower Mito, Museum Shop "Contrepoint", Museum of Contemporary Art Tokyo, Opera City Gallery Shop